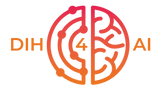 In our pursuit of redefining AI's role in industry (see the previous article for experimental overview), especially in empowering SMEs to create smart industries in smart value networks, the collaboration between DIH-Saxony-Anhalt (Fraunhofer Institute for Factory Operation and Automation IFF), EDIH South Netherlands (Nederlandse Organisatie voor Toegepast Natuurwetenschappelijk Onderzoek – TNO), and Munich Innovation hub (Fortiss) promised unparalleled synergy. After a series of visits and iterative workshops, we're excited to share our collective journey's outcome.
This experiment is designed to capture the specialisms of the Elbfabrik (the factory of the future demonstrator and factory operations expertise), Brainport industry campus (shared data spaces expertise) and fortiss (expertise in applied AI) and to identify definite collaboration scenarios and to analyse the necessary conditions to achieve a joint demonstrator that well exemplifies the use of AI in a smart industry of a smart value network.
Key Highlights from Each Visit:
TNO and Fortiss at Elbfabrik: An illuminating exploration of Elbfabrik's capabilities unveiled several synergy points, laying a strong foundation for collaborative possibilities.
IFF and TNO's Journey to Fortiss: Fortiss's advanced facilities revealed potential collaborative projects, showcasing the vast expanse of technology integration opportunities.
IFF and Fortiss' Engagement with TNO: The final visit turned out to be a melting pot of ideas, where a consensus on findings and future directions was seamlessly achieved.
Workshop Outcome
Post-visit workshops proved invaluable. We used the BOWI corridor assessment framework to set the tone of the workshop and it helped identify our respective specialisms and also the collaboration synergies. The workshop facilitated:
Integration of real-time insights, ensuring every perspective was valued and considered.
Identification and strategization around potential challenges.
Refinement of collaborative strategies that promise to be both innovative and feasible.
Future Roadmap:
With the groundwork firmly in place, the collaboration is set to:
To set the joint vision accommodating the 3 participant DIHs
Launch pilot projects encapsulating the best from each entity.
Host follow-up collaborative events to monitor progress and adapt strategies.
Champion the role of AI for SMEs, aiming for widespread industry impact.
Acknowledgments:
A heartfelt thank you to all participants [Phillip Frankl (Fortiss), Mattijis Punter (TNO), Simon Dalmolen (TNO), Nils Burgmann (Fraunhofer IFF), and Vivekanandhan Viswanathan (Fraunhofer IFF)], especially our hosts at each facility, for making these visits insightful and productive.
Stay Connected:
For more granular insights (to be reported along with corridor maturity assessments and specialisms heatmap) and real-time updates, ensure you're following us on www.dih4ai.eu and our LinkedIn channel.